Thoughtful Fundraising for Charter Schools: Equity-centered Strategies for Filling Funding Gaps
W07
Is there a gap between the mission and vision of your charter school organization and the public funding available to achieve it? Are you ready to redesign your organization's approach to annual giving campaigns or to establish new relationships with philanthropic partners?
This workshop will provide two perspectives on how to work with parents and supporters to generate revenue while being sensitive to a wide variety of family circumstances. Learn from Valerie Braimah, a former charter school executive director who recently moved to the NewSchools, and Haley Keech, a school operations maven at Citizens of the World, who's passionate about supporting effective parent-driven fundraising. Participants will collaborate to analyze and refine their current fundraising strategies, and gain insights into how to establish, expand, or improve fundraising efforts.
Presented by
Manager of Community Giving
CWC Los Angeles
Haley has been with Citizens of the World for 9 years. She has helped raise millions of dollars for the organization through community fundraising, both internally and externally. Haley's area of expertise is equitable giving within the caregiver and parent community.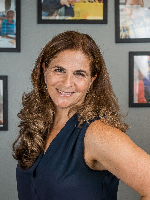 Senior Associate Partner.
NewSchools
Valerie Braimah is a Senior Associate Partner on the Innovative Public Schools team at NewSchools Venture Fund. She works closely with school leadership teams, providing management assistance and facilitating communities of practice focused on approaches that advance equity in schools and support students' academic and social-emotional development. An education leader for over 25 years, Valerie has always been passionate about challenging the status quo in public school education and creating opportunities for students to access liberation, joy, and critical thinking. In her previous roles, she has led professional development for teachers, developed innovative school models for students from racially and economically diverse backgrounds, and supported efforts that raised student achievement in schools and districts across the country. Before finding a home at NewSchools, Valerie was Executive Director at City Charter Schools, and held leadership roles at Teach For America, The Alliance College-Ready Public Schools, and Insight Education Group.